Sponsorship Programs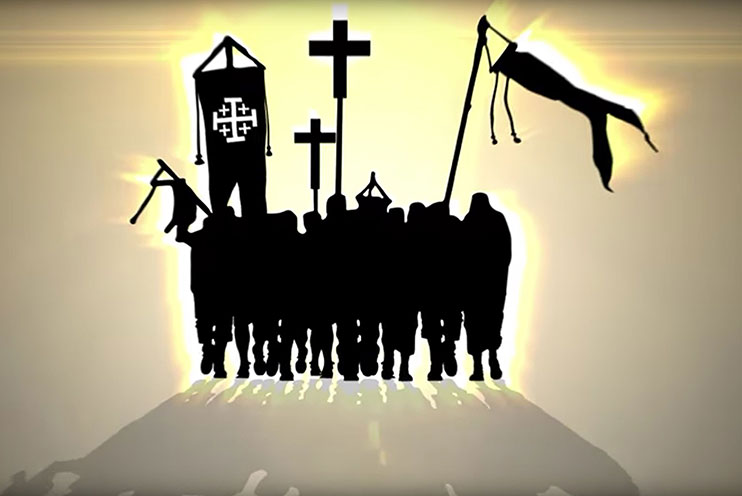 Thanks to your generous donations, seven young people are now fully sponsored and seven have been partially sponsored, and they are all looking forward to walking this pilgrimage for your intentions!
Fully Sponsored:
Devan Brandalick - SPONSORED
David Kirk - SPONSORED
Joseph Meyers- SPONSORED
Bridgette Mitchel- SPONSORED
Sean Homcy - SPONSORED
Patrick Seeley - SPONSORED
The US Rangers Fund and Chaplain/Chaperone Funds are still in need. Please consider sponsoring the US Rangers to build tents, as well as our hardworking chaplains and chaperones.
Michael Matt Introduces the 'U.S. Rangers'
This year, several young men have volunteered to partner with my son Walter Matt in organizing what the French affectionately call "The U.S. Rangers"—a team of five young American men who will help with the monumental task of assembling (and then disassembling, relocating and assembling again) the large communal tents needed to house 10,000 pilgrims each night during the Chartres Pilgrimage in June.
In the photo below, readers can see several members of the U.S. Rangers posing beneath their favorite Sacred Heart flag, which they raise over their gatherings on the campus at Franciscan University. Known as the "trads", these young men aren't afraid to let everybody know that Tradition is catching on at FUS. Cleary, friends, all is not lost when young Catholic men attend the Latin Mass together, enlist in the League of the Sacred Heart and then volunteer to spend three days in France helping to house traditional Catholic pilgrims.
Please consider a tax-free donation of any size the Remnant Tours Youth Fund so that we can get these five young men over to France to help 10,000+ pilgrims stay warm and safe during this year's pilgrimage, while committing themselves entirely to the Catholic counterrevolution.
The Remnant is trying to raise $1000 for each of the 5 U.S. Rangers to help offset the cost of sending them on this mission.
By the way, the Remnant Pilgrimage to Austria and Hungary is now completely sold out. Some of the young people who had applied for sponsorship did not make it but will be placed on the top of the list for next year. Anyone still wishing to attend the 3-day walking Pilgrimage only can still register with the U.S. Chapter HERE. The cost is $75 and, obviously, does not include airfare. I hope to see you on the Road to Chartres. MJM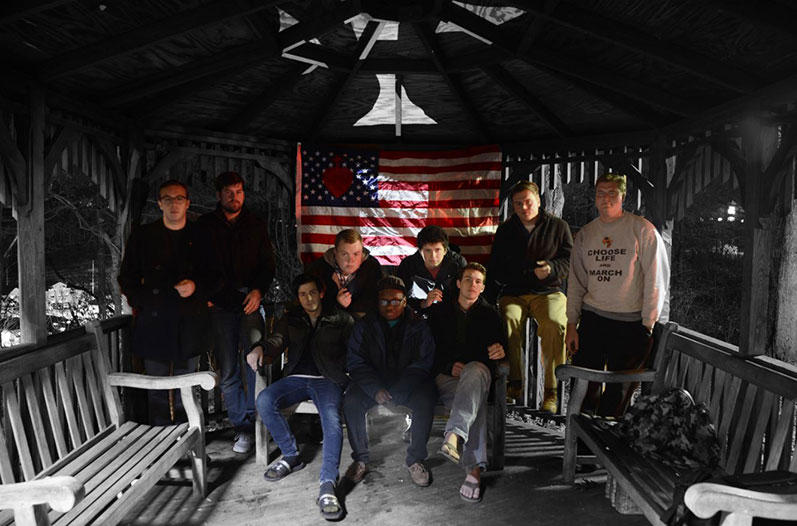 Sponsor this US Ranger:
Dear Remnant Readers,
My name is Brad Montgomery, I am from the Dayton, OH area, where I attended an FSSP parish upon discovering the Traditional Latin Mass. I currently reside in Steubenville, OH where I attend Franciscan University as a graduate student and teach Latin as a part-time teacher at a nearby Catholic school. In an effort to continue following the way of salvation established by Christ, I am hoping to participate in the Chartres pilgrimage to France this coming Pentecost in order to be re-oriented toward Christ the King on my pilgrim way.
The first Latin Mass that I attended was on the feast of Christ the King a few years ago and since that time I have continued to find refuge from the world in the treasures of the Church's tradition, especially in devotion to the Sacred Heart. I have also found support in a growing body of traditionally-minded Catholics here in the Steubenville area who have done a lot of good work in educating college students in the Latin Mass.
Another reason I would like to attend the pilgrimage is to be strengthened in my faith and better able to contribute to supporting people who have a curiosity of the Church's tradition. In an age in which so many seem to hate Christ and his Church, including both those inside and outside of the Church, a life lived in the abundance of Christ's grace seems more necessary than ever so that we might have a chance of serving Christ as good soldiers till the end.
I am requesting some sponsorship so that I might be able to attend this year's pilgrimage. I would like to stress that I am only in need of partial assistance (about $1200) in order to attend the pilgrimage as I have already set aside some funds for the pilgrimage. Any assistance will be greatly appreciated, and you can be assured of my prayers for you and your intentions throughout the duration of pilgrimage and tour so that Our Lord may bless you with the graces offered by him.
May God bless you and your families,
Brad Montgomery
Waiting for Sponsors:
Brad Montgomery and the 5 'U.S. Rangers' - $1000 thus far
Please send tax-deductible donations to: Remnant Tours US Rangers Fund, PO Box 1117, Forest Lake, MN 55025
Or pay online by clicking the button below:
Tel: (651) 433-5425
The Chaplain/Chaperone Fund
The Remnant Tours is deeply committed to the moral, spiritual and physical wellbeing of each of our pilgrims. We engage Chaplains and Chaperones to ensure a safe and spiritually productive environment at every step of the way. This year we are bringing the indefatigable Fr. Gregory Pendergraft, FSSP, who brings a commitment to the true spirit of Pilgrimage throughout the trip which resonates with young and old alike. We will also have three chaperones to look after the safety and health of the group, especially the young pilgrims.
All of our chaplains and chaperones are volunteers. They ask not one penny for their services, but are fully committed to this Catholic action. However, The Remnant must still find a way to finance their transportation and accommodation. Anyone wishing to help out, under the same terms as the Youth Fund—your name will be added to the Pilgrimage Prayer List and your intentions will be remembered every day—please make your tax-deductible donation at the PayPal link below:
Testimony from a Former Chartres Pilgrim:
Editor, The Remnant: I am french, I have been living now in Canada with my family for almost 20 years (my husband and I are celebrating our 20th anniversary in May, we married in the suburb of Versailles in a 13th century roman style (versus gothic) little country church).
I appreciate very much your commitment to the pilgrimage of Chartres as I have been marching many times there as a french resident, first as a Catholic girl guide and then as a student with the traditional movement (Pelerinage Chretiente), I was walking with an american girl friend from California along with an american chapter (I wish I could recontact them). All those pilgrimages have built in me strength and fortitude throughout all the challenges that we all have to face in our lives. It has been giving so much strength even though I could not participate anymore.
I strongly encourage the parents to send their children there or/and even to participate themselves. I encourage everybody to go. It is such an uplifting experience. It is worth the effort as our Lady basically carries us...we do not feel the miles accumulating "in our legs".... when we get closer to the beautiful Cathedral of Chartres that is built up on a hill, the last steps are tough, the closer we are the tougher it is...but then, miracle of miracles, we are basically floating in the Cathedral...we feel like in heaven...purified by the penance, the walk, carried by angels...so close to the Sacred-Heart of our Lord...we feel renewed and so much love...wrapped up in the mantle of tenderness of our Lady. Surrounded by many brothers and sisters in Christ, all united in one, yet personally encountering our Lord Jesus-Christ, renewed in His love. It is an unforgettable experience: a journey to get closer to Christ and strengthened in Him.
"Together we are fortress!" I wish I could go along with my Canadian husband and our 8 children (the oldest is 17 and the youngest 2)..It seems a rather impossible mission as we do not have means to travel. (I have not gone to France for almost 15 years) Anyway, I hope many young people from the United States of America will be able to go... God bless you and your hard work! In Corde Mariae Matris,
Carole Jobin